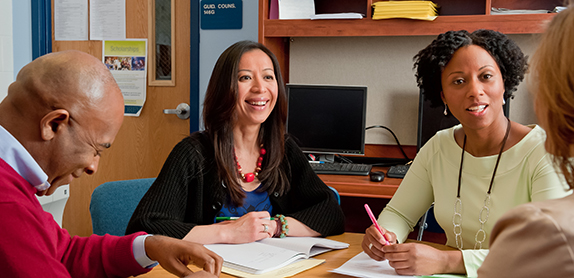 The College Board provides a wide array of in-person and online professional development options for educators. Deepen your instruction and elevate your students' learning by participating in one or more of the following programs.
In This Section
Workshops and Summer Institutes
Learn innovative best practices, explore research-based strategies, and increase your course knowledge by attending a College Board workshop or AP Summer Institute near you. Also, find out about the many AP Summer Institute scholarship opportunities which can help you with payment.

Online Professional Development Options
Build content and pedagogical knowledge with free, self-paced modules focused on a variety of skills and topics. Dive into AP® with our Course Overview Modules and help foster student success on the AP Exam with our new Teaching and Assessing resources.

AP Teacher Community
Connect with other educators in the AP Teacher Community — your online home for discussing teaching strategies, asking questions, and sharing best practices. Our online communities support AP Coordinators and teachers across all AP courses.

AP Mentoring
AP Computer Science Principles, AP English Literature and Composition and AP U.S. History teachers can sign up for AP Mentoring, an online teacher-to-teacher support program that connects them with expert teachers that will help strengthen their teaching practice. Find out more about how to get an AP Mentor.

Become an AP Reader
Participate in the AP Reading in June to get invaluable insight into the AP Exam scoring process and to exchange ideas with other educators.

Become an AP Workshop Consultant
Share your expertise and best practices with other education professionals by becoming an AP workshop consultant.

AP Insight
Strategically focus your classroom with AP Insight, a digital toolkit of assessments, instructional activities, and professional learning resources built by expert AP educators. Subscriptions are currently available for AP Biology, AP Calculus, AP Chemistry, AP U.S. History, and AP World History.

AP Annual Conference
Attend the AP Annual Conference with 3,000 of your peers and choose from over 400 dynamic workshops in one inspiring professional development event held each summer.
Teaching AP for the First Time?
Whether you're an experienced teacher who is new to AP or you're just beginning in the teaching profession, our checklist will help you plan this undertaking. Learn about the many resources that are available from the College Board to get you started.