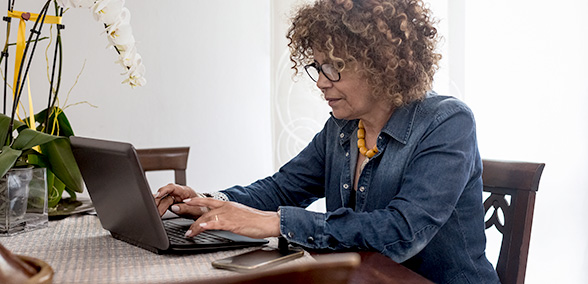 Become a Mentor
If you're a current AP Computer Science Principles teacher with at least seven years of overall teaching experience, we're looking for you.
Share your knowledge with your fellow teachers: Become an AP mentor.
The Program
AP Mentoring is an online teacher-to-teacher support program for AP teachers of all experience levels. It connects AP teachers who want to enhance their teaching skills with expert AP teachers who have significant instructional experience and deep content knowledge.
Here's how it works:
Each mentor hosts two groups of up to four mentees each (for a total of eight mentees). Mentees choose an available mentor in their subject and join one of that mentor's groups.
Each group meets online through video chat, completing 12 hour-long sessions over the course of the school year; mentors deliver a total of 24 mentoring sessions during that year.
Mentors are supplied with a mentoring curriculum specific to their course. They work with their mentees to adapt this plan to the group's needs.
In between sessions, mentees complete a reflection assignment designed to help them apply what they're learning in the classroom.
An online platform allows the group to share documents and schedule sessions.
Mentor Requirements
For the 2017-18 school year, we're looking for AP Computer Science Principles mentors only. To be eligible to become an AP mentor, you must be a current teacher of AP CSP with at least seven years of overall teaching experience and prior experience teaching AP.
In addition, you should:
Have deep content and pedagogical knowledge.
Be familiar with the AP CSP Exam.
Have experience supporting adult learners.
Have effective communication skills and strong organizational skills.
Be comfortable using technology such as online video and document-sharing platforms.
Why Be a Mentor
When you share your experience and skills, you help both teachers and students. Your mentees improve their teaching, their students benefit—and mentoring will help you refine your own practice.
AP mentors receive free training and a $2,000 stipend.
What to Expect
If you are chosen to be a mentor for 2017-18, you will be asked to:
Attend a two-day training session in the summer of 2017, paid for by the College Board.
Complete a survey to help us match you with mentees.
Complete surveys at the beginning and end of the program (approximately 30 minutes each).
Lead hour-long monthly video chats with each mentee group, beginning in fall 2017 and ending in summer 2018.
Complete a brief session report following each session to confirm session attendance.
Review mentees' monthly assignments and prepare for subsequent video chats.
Apply to Be an AP Mentor
If you meet the criteria above and are interested in mentoring, fill out the online application.
Are You Looking for a Mentor?
If you're an AP teacher who'd like to enroll in the program as a mentee, or if you're a school or district leader who wants to buy AP Mentoring for your teachers, visit our AP Mentoring page for mentees.
Contact Us
For additional questions or suggestions, email us.